On the 17th October IBY went to Gresley Hall, although on this occasion it was a quiet night some interesting things did appere to happen.
3 of us arrived before the main party and decided to set the equipment up, in one of the rooms on the first floor we decided to do a little calling out, Jaqueline said she could feel a presence to the left of her, I quickly took a photo and saw their was a shadow, I quickly took a second one but in that shot their was no nothing.
The photo to the left was taken after Jacqueline said she could feel something to her left, the photo to the right was taken 2 to 3 seconds later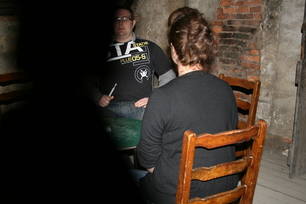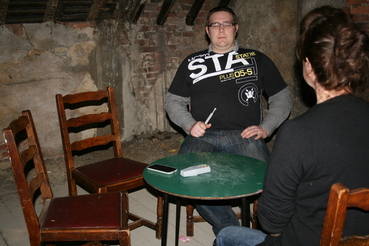 Round 11.15 some of the members decided to call it a night as there was nothing going to speak of.
About 11.30 we asked the spiritual residence to move the trigger object slightly if that's all they could do, then the motion detectors started to go off, no one was near them, we then asked them to do it again when they went off again, they did a third time.
On close examination the trigger object had moved albeit only very slightly, a photograph was taken and compared to one taken earlier.
We then thanked the ghostly residence and started to pack up, we had be off the premises by midnight.
IBY have now booked 3 more investigations for 2015 as we all felt it was worth further visits.